We visited the ENHANCE Gaming booth at Gen Con and got a glimpse of their full line of RPGs, TCGs, miniatures, and board game bags and cases for gamers on the go. ENHANCE has been making products for tabletop gamers for about six years, Darren Rieger, Senior Product Development for ENHANCE told us, but the company has a 40-year history of making bags for electronics, including computers, cameras and console and PC games.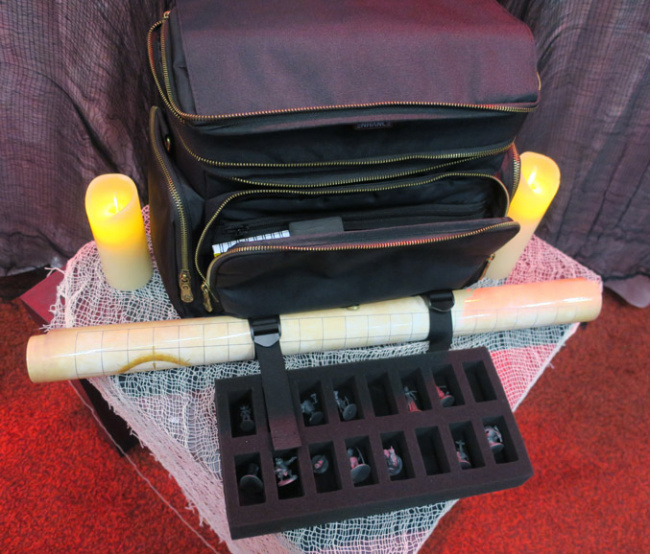 The company's first product for tabletop gamers was an RPG product, and the category remains the company's largest group of tabletop games. ENHANCE's most popular product is the RPG Adventurer Bag, which was originally a dungeon master's bag. "At the bottom, it's got six to eight books," Reiger explained. "At the top, it's got 16 minis. On the front there is a map holder, and then you have storage all around the sides. RPG Adventurer Bag comes in Collector's Editions with nine "Dragon Hide" colors for MSRP 149.99 and in base black for MSRP $99.99.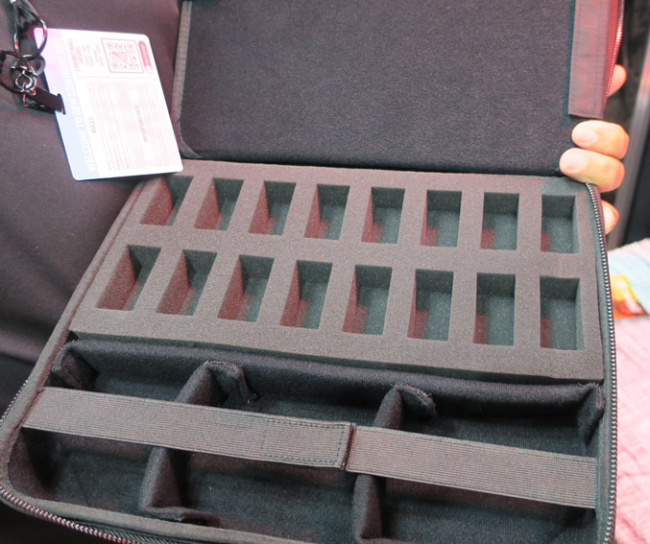 The RPG organizer case is "…like a hard shell binder," Rieger said. "You have a rolling area. You have storage for pens and dice in this pouch, also removable. You can put it on the table. Underneath you can store extra sheets. Then the divider in the middle has a panel dry erase, so you can dry erase right on it, so you can save your sheets.Then in the back you have 16 mini storages, and you have adjustable storage here.You can put minis bigger, dice, cards, tokens and whatever you want." The Organizer case comes in base black for $79.99 (see "'ENHANCE: RPG Organizer Case"), and is newly available in Collector's Editions in a variety of Dragon Hide colors.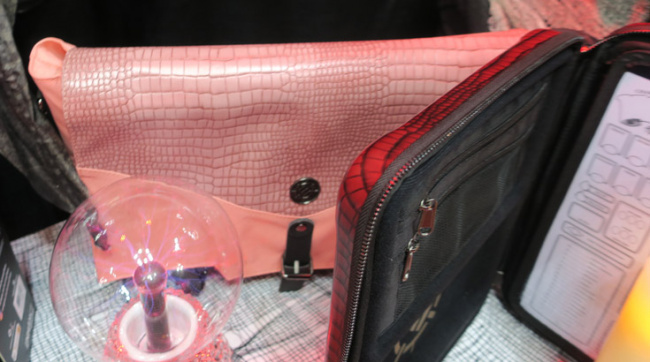 Rieger also described the RPG gamer bag. "It's a bit wider," he said. "It holds a 17-inch laptop, so it's good for an everyday messenger, and it can hold two or three books, plus your 17-inch laptop. It still has the card holder on the front .It's a little bit thinner, more manageable to carry around as the day progresses I've heard from dungeon masters they liked our bag and they bought all their players the Player bagso they can all spawn with the same stuff." The RPG Gamer's Bag is available in Collector's Editions in eight Dragon colors for $79.99 and base black for $59.99.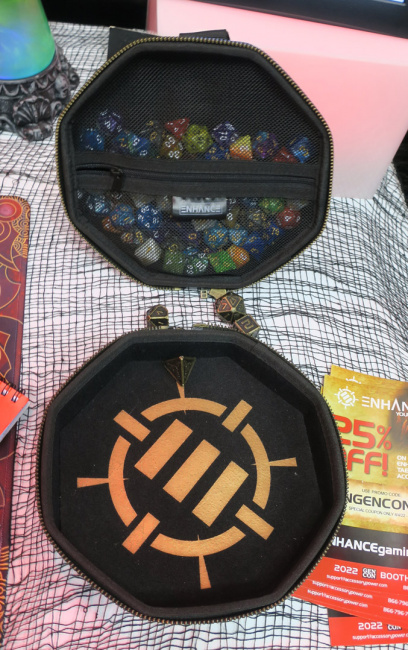 ENHANCE offers two different dice boxes, one personal and one community. "The staff [Dice Case and Rolling Tray], they are both rolling trays and storage," Rieger said. " They are separating. This is a hard EVA shell, so they will protect your dice. You can store up to 150 dice in staff. Dice box and rolling tray comes in black for $29.99.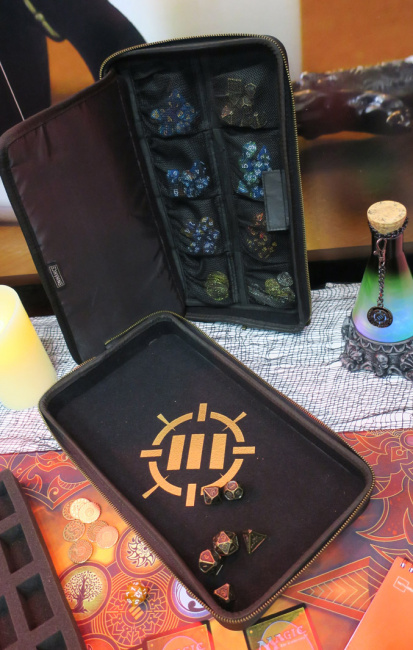 "In the Community dice organizer case and rolling tray, you can store a lot more if you actually fill the dice tray, but there's an organization pocket inside, so you can store eight games separately," Rieger continued. "If you want to keep your dice separate (you have got a really nice set that you don't want to throw in the dice pool), you can put them in these eight pockets. Then on the front you have a pocket where you can have a big dice pool or put pens, paper, notepads, everything else in the front pocket. It's totally removable too, and you have a large rolling tray on it. Community dice organizer case and rolling tray comes in black for $49.99.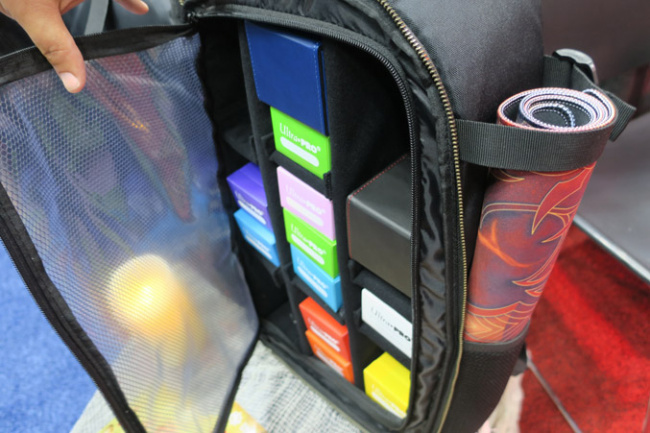 TO IMPROVE TCG Playing Card Backpack holds 7,600 cards, Rieger said. "There's this guard on it to help keep it closed. Nobody reaches inside and grabs it. It keeps your cards in place, so they don't jump out of places. The whole interior is in velcro, so you can adjust them up and down.It can hold the cards alone or in boxes.Then you close this little protection with a zipper.You have a pocket here for tablets, books, notebook spiral, whatever you want. There are mat holders on both sides. You can also put a water bottle or whatever you want in it." The TCG Playing Card Backpack sells for $139.99.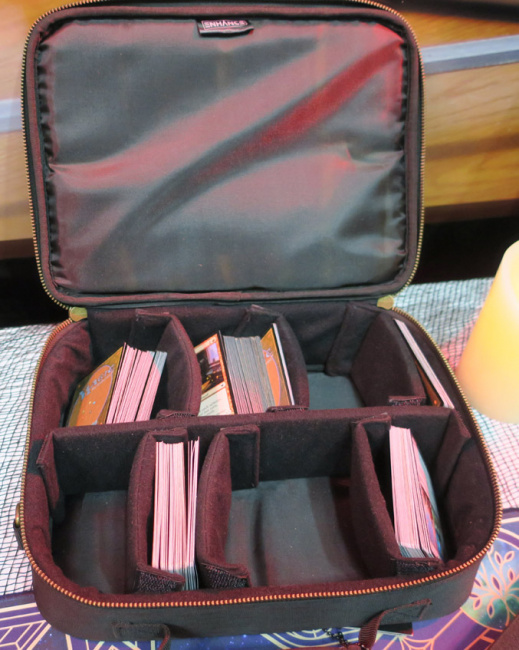 ENHANCE also manufactures a smaller TCG product, the Trading Card Travel Case for $49.99. "Good if you're just starting out, or just going to an event, where you just need a selection of cards. You don't need to carry everything with you. It's a small shoulder bag .It's pencil and pen holders on the front and a zippered pocket on the front."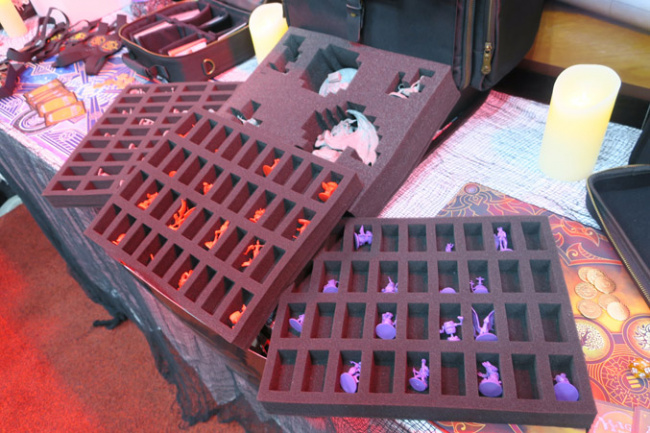 For miniatures players, ENHANCE offers the Miniature Miniatures Travel Case. "It's got four trays; three of them are pre-cut," Rieger said. "The pre-cuts hold 108 28-millimeter minis, so like 108 inventory. Then you have a thicker diced foam tray that's customizable, so you can put all your bigger minis in there and cut them to size." The Miniature Figure Travel Set sells for $79.99.
For board games, ENHANCE has its Board game backpack. Rieger described it to us. "It's like the most luxurious game box bag there is, because it's the most reinforced and padded bag there is," he said. "A, it's a backpack, so you distribute the weight of all those boxes on your back. Also, the sides are really reinforced. It's the only bag you're going to open, and it stands on its own It doesn't just collapse in a puddle, it's because there's so much planking and padding on the sides, so it'll protect your game boxes.
"It'll fit all these different games. When you're stacking them from biggest to smallest, there's this little strap here to hold the smaller games against your back, so they don't slide on top. It's oversized, so when you close it, it won't cut into the corners of your boxes. Many others are really tight, especially if the box is a little larger than 12″. When it says it's 12″ , but it's a bit bigger, you end up cutting the corners with the zippers, or you see the corners breaking through the bag, making a hole. problem installing your games. Then you have a lot of storage on the outside.You can carry up to four different types of playmats, so if you have different types of games that require mats.You can carry a bottle of water, or whatever you want on the side.Then on the front you have a place for cards, dice, of at least very accessory s."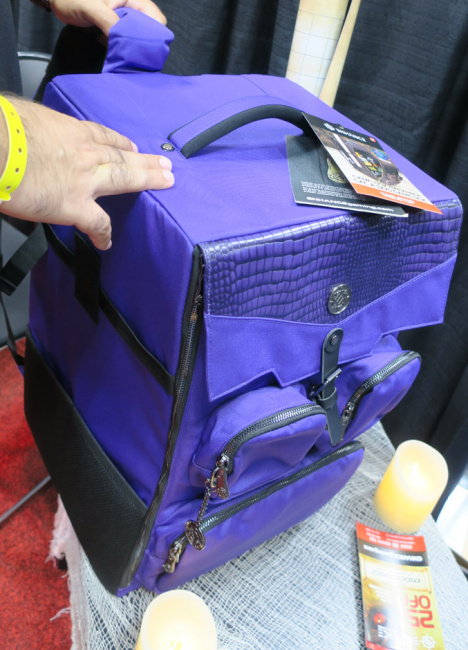 ENHANCE offers the board game backpack in Collector's Editions in eight Dragon colors for $199.99 and base black for $139.99.
ENHANCE also offers kits packaged in the board game backpackcontaining the RPG adventurer bag, RPG organizer case, and RPG gamer bag, all in matching Dragon colors or black, allowing retailers to save shipping and shelf space, or get a set of the best products to display. The price of the kit is discounted from the combined retail prices of the components.