Climate change is one of the defining issues of our time, but many South Florida residents, who grow up hearing the words "global warming" and "sea level rise" as often as they hear a parent call them out to dinner, adopted an almost jaded attitude about the whole.
A Miami-based artist, however, is giving locals a first-hand view of what Miami will look like if we continue down this path.
Former Orlando Estrada '08 student calls on viewers to address environmental issues surrounding South Florida today with his new solo exhibit "The Infinite Vision in the Ethereal Rainbows Swarming Behind my Eyelids Reveals a Beacon" located in South Beach .
Born and raised in Puerto Rico, before moving to Miami at the age of 11, Estrada is no stranger to living in cities deeply connected to the natural world. Estrada says the experience gave her a solid understanding of the concepts of transformation and the relationship between humans and the planet at a very young age.
"These two concepts are the basis of my artistic practice," he says. "Naturally, I am intrigued by climate change and what it means for the future of the planet. "
Her exhibition explores how unconventional materials can be transformed to create a cyclical network of narratives through sculpture and painting. The sculptural centerpiece of the exhibition, "Tiered Panorama", is a para-fictional architectural model of the city of Miami. By combining both artificial and natural materials – the fundamental crux of sculptural practice – the work addresses the city's vulnerability to sea level rise and analyzes the role of petro-capitalism in accelerating this natural process of change.
'Tiered Panorama' was inspired by the elaborate collection of Christmas villages and Casitas – a Puerto Rican craft of creating miniature facades of traditional island houses – his grandmother and mother made them and displayed in their homes throughout his childhood.
"[The] The meticulous attention to detail in these screens gave me a strange sense of wonder, "adds Estrada. "When I was presented with the opportunity to create an exhibition on the city of Miami and the impact of climate change on its future, it was clear to me that the preciousness of the miniature would be the perfect way to share my ideas. .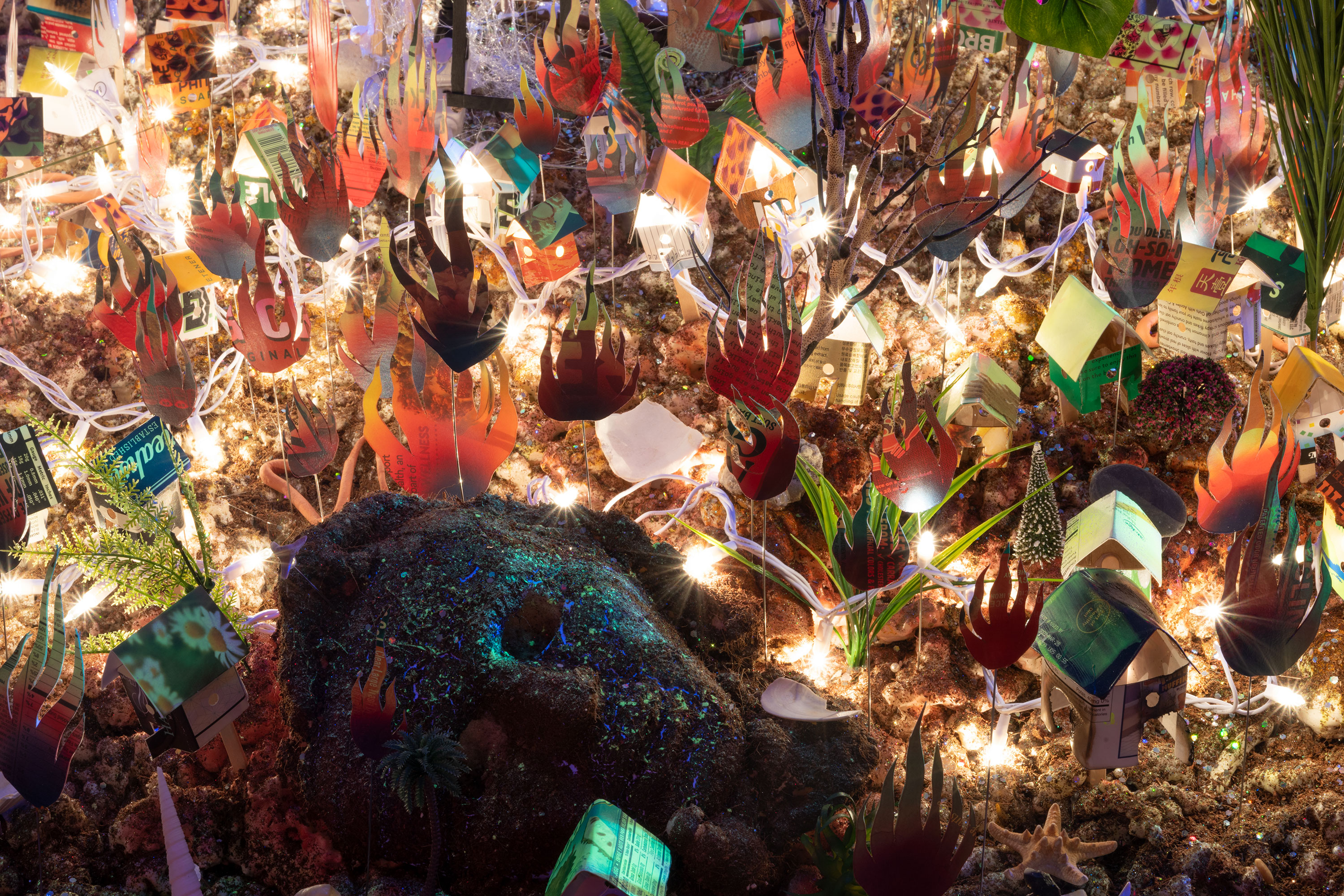 Keeping the exhibit "green", Estrada constructed the sculpture from consumer packaging waste, which he collected during the pandemic. The work also includes materials that were donated by Materials for the Arts, an art materials recycling organization in New York City. Most of the natural components of the structures were also of local origin.
According to Estrada, it was at FIU that he began to believe that art could change the world and that he should continue to create it, regardless of the circumstances he faced.
"I want my work to fill people with a feeling of such profound beauty that they can't help but take any climate-conscious action," he adds. "I want people to look at the beautiful mess that I create and in these works to be able to see that this is the world that we have burned down with unmanaged growth and unmitigated chaos and then come away with a desire for something. something different. "
"The Infinite Vision in the Ethereal Rainbows Swarming Behind my Eyelids Reveals a Beacon" is on view at 644 Collins Ave and is open Thursday through Saturday from 11 a.m. to 6 p.m., or by Appointment during off-peak hours.